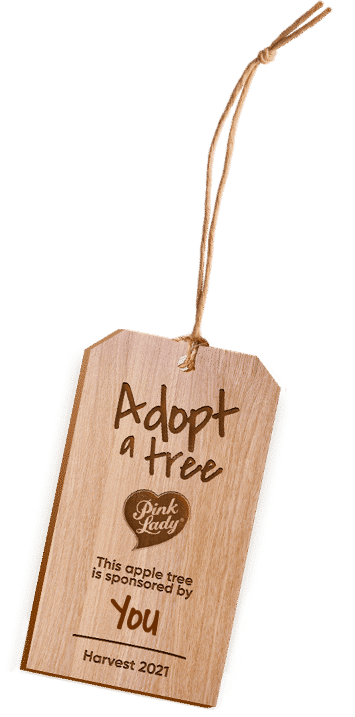 Would you like to pick your own apples? To follow the development of your apple tree? To meet a grower? This is now possible thanks to the Adopt a Tree campaign, which gives you the opportunity to sponsor a Pink Lady® apple tree.
Discover


Pink Lady® orchards

Sponsoring a Pink Lady® apple tree is about following your tree throughout the production cycle, and being able to pick your own apples.
Adopt a tree


in just three steps…

… and you'll be able to harvest your own Pink Lady® apples from the orchard, a piece of cake!
1
From March 29th to April 15th, find Pink Lady® apple punnets dedicated to the operation in participating Dunnes stores.
3
Fill in your contact details, choose your orchard and sponsor your apple tree!
Meet

a Pink Lady® grower

Sponsoring a Pink Lady® apple tree will also allow you to meet a Pink Lady® grower and find out more about his/her profession, values and commitments. Inviting you into their orchards is one of them. Just like over 1,000 consumers before you, discover the women and men who work hard every day so that you can have the very best Pink Lady® apples.
4
Key moments with growers before the harvest

Damien BURRATI
Montauban

Damien BURRATI
Montauban
Our family orchard, created by my father and uncle in the 80s, is located near the banks of the Aveyron river, north of Montauban, in Tarn-et-Garonne – the 1st apple-growing department in France.
We specialize in apple production: we grow 11 different varieties across 260 hectares including 32 hectares for Pink Lady®. We also have several hectares of kiwis.
The life cycle on the tree
Discover the cycle